ISO/TS 29001 Training Courses
ISO/TS 29001 - Oil & Gas - Quality Management System training courses
What is ISO/TS 29001?   
ISO/TS 29001, as an international standard, is the result of the collaboration between ISO and the international oil and gas industry, which is primarily focused on the oil and gas supply chain. It specifies the Quality Management Systems requirements for the layout, establishment, production, and implementation of products and services for the petroleum, petrochemical and natural gas industries.
Further, ISO/TS 29001 is also based on ISO 9001, which contains requirements on error prevention, reduction of variation and waste management from the service provider. These requirements have been written separately in order to ensure clarity and perceptibility. This standard is suitable for all companies within the oil and gas industry as it was developed to ensure quality and improvement within this particular sector.
Why is Oil and Gas Management important for you?
Considering that the oil and gas industry is one of the most exposed to disastrous threats, quality management processes and qualified professionals are crucial to this field. In cases of mistreated hazardous liquids and gasses, severe harm can be caused to people and the environment. Therefore, a high level of operational reliability is vital to this industry to ensure safety and maintenance of smooth operations. This is also beneficial for the organization as it would gain recognition for offering the best products/services in terms of quality and safety. An effective way of achieving this is by becoming ISO/TS 29001 certified, and with your expertise you will assure excellence to stakeholders and improve the organization's reputation.
our knowledge and expertise on this standard, while enabling you to maximize your earning potential.
Benefits of ISO/TS 29001 Oil and Gas Management        
Enhance the organization's performance
Ensure quality and safety
Gain competitive advantage
Increase efficiency
Improve marketing
Contribute to cost reduction
Improve risk management
Ensure effective waste management
Ensure customer reliability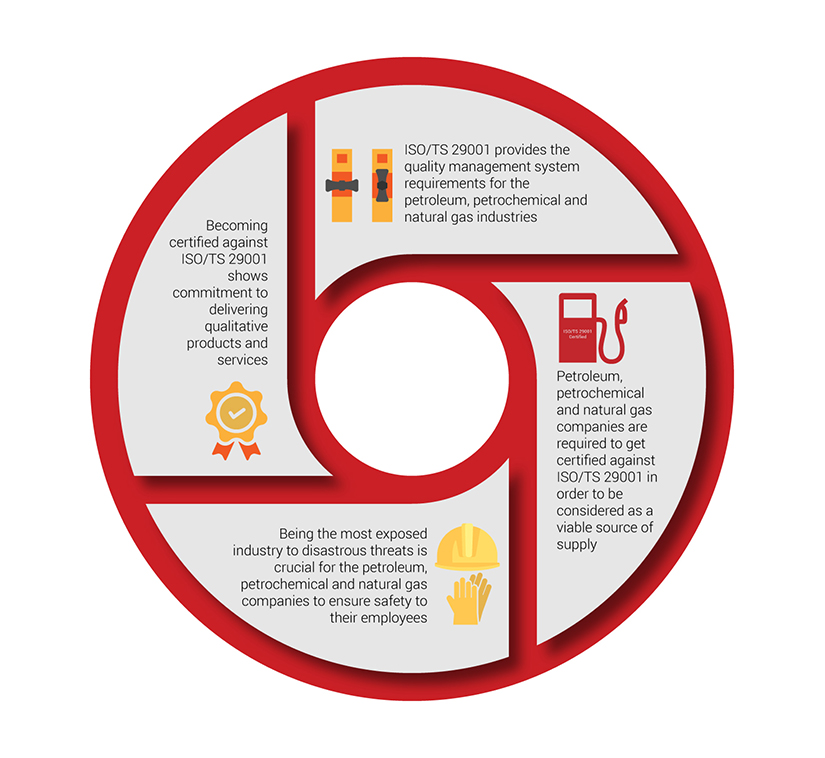 How do I get started with ISO/TS 29001 Training?
If you are willing to take the challenge of obtaining the ISO/TS 29001 certification, our expert will ensure a valuable experience, whereby your needs will be met and you will become part of our global network.
Need assistance for deciding next course for you? Contact us for assistance and full details.